Move your business
Miele MOVE optimizes your entire appliance management: You can access connected Miele Professional washers and dryers from anywhere and have an overview of your fleet at all times. This gives you significantly more control over workload and vacancy, performance data and error management processes.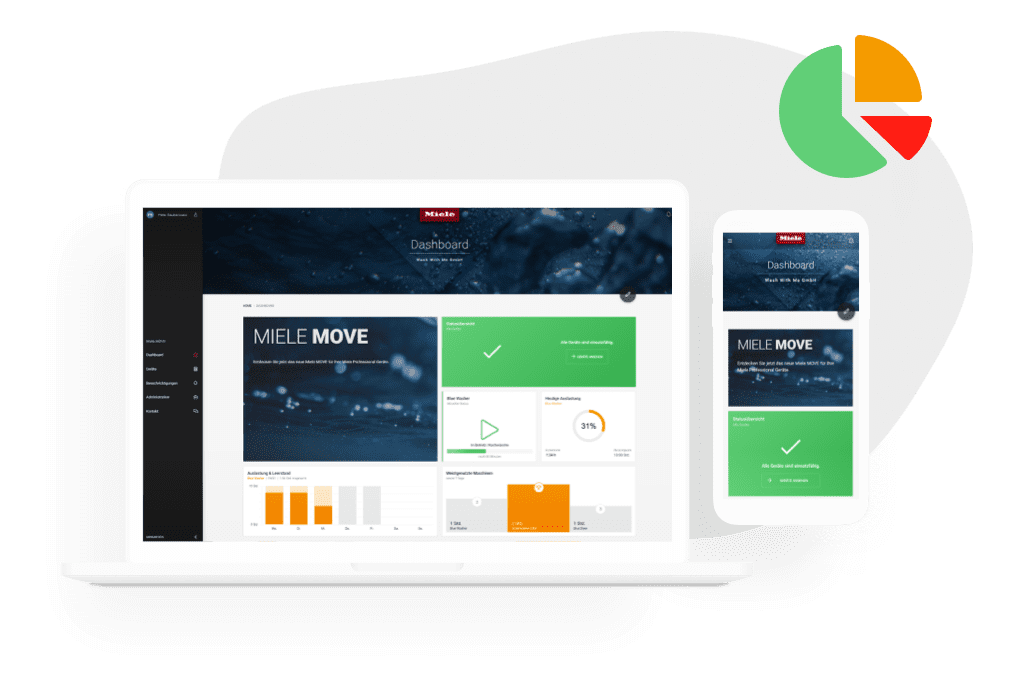 Manage your data
The dashboard helps you keep track of all relevant information and appliance statuses transparently and in real time. View the workload and frequency of use of your appliances on the dashboard.
As soon as you upgrade to the Starter or Advanced Plan, you can further customize the dashboard to your individual needs. This allows you to personalize and freely arrange widgets on the page. This way, you and your team will see all work-relevant information you need and can react faster, safer and more precisely in your everyday business.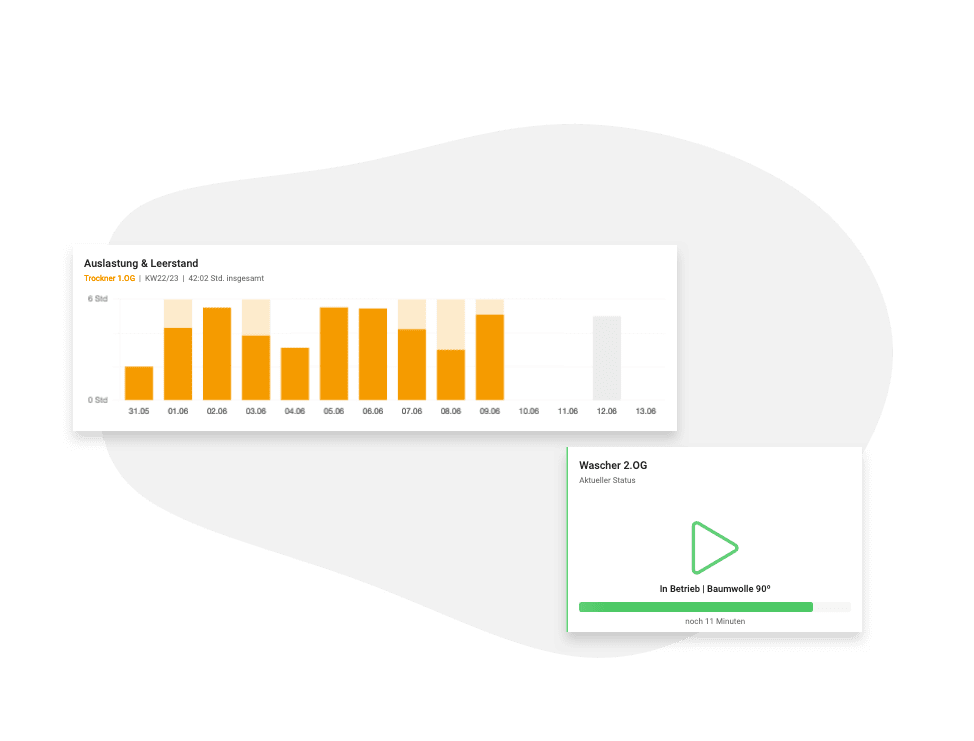 With Miele MOVE you can view all important device information such as performance and program data, workload and vacany and usage frequencies live at any time and from anywhere. This means that all responsible persons know immediately which appliances are being used to what extent or where they have to take action.

You and your team can see immediately which appliance is being used how often, when programs end or whether service technicians need to be informed. This means you have valid appliance and program data at all times and you can easily identify future trends for capacity planning easily. This saves unnecessary travel and enables precise reporting.
Smart appliance connection
Miele MOVE acts independently of your used devices. The Miele Portal can be controlled via desktop PCs, tablets and smartphones and will connect you to every network-enabled Miele Professional appliance in the future.
Miele MOVE automatically notifies you of current events on your smartphone, tablet or desktop PC. You and your team are always informed about the operation of your appliances at any time and can react more quickly to specific events such as errors or the end of running programs.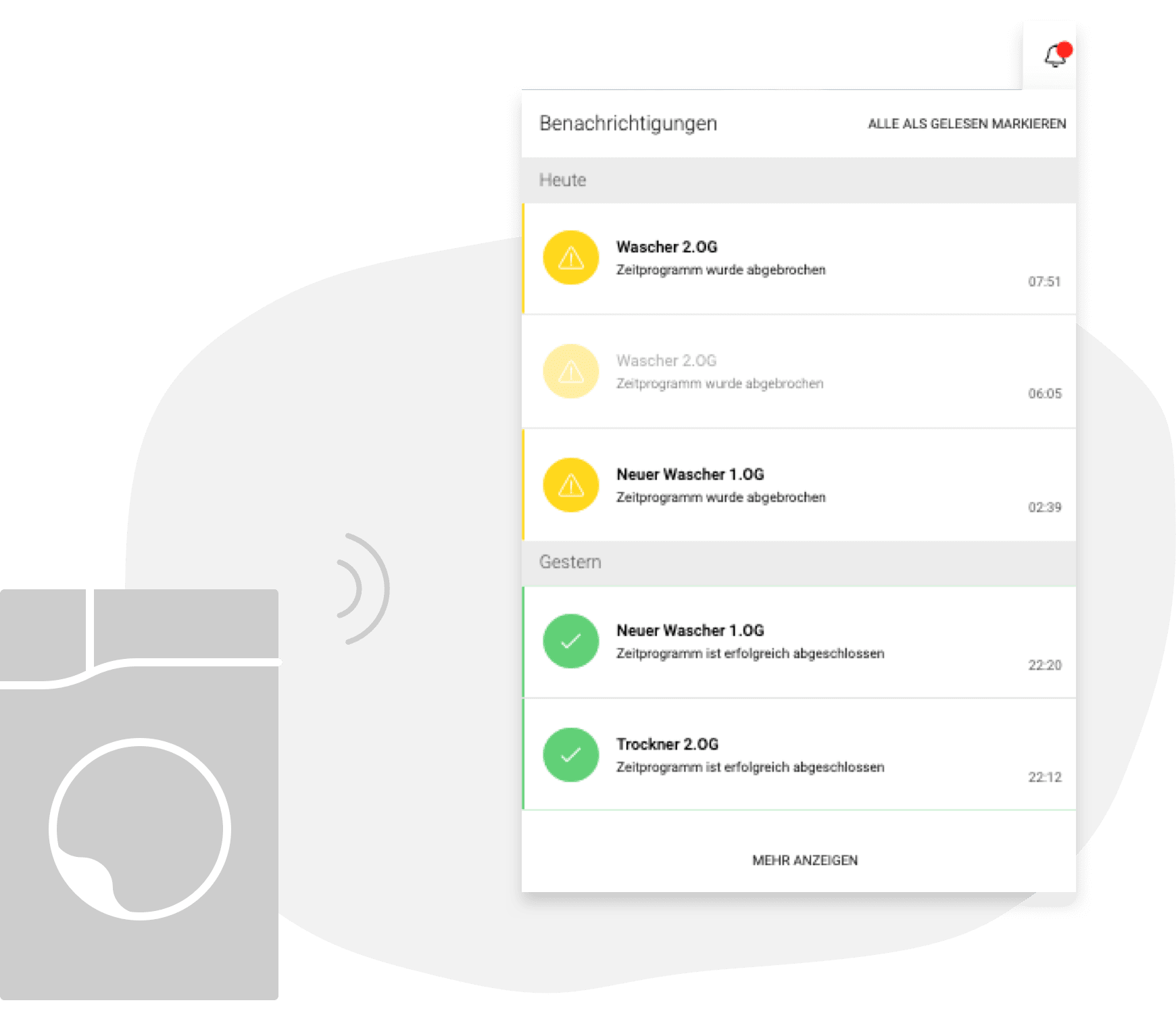 Wir unterstützen derzeit folgende Miele Professional Geräte:
Washer
New Benchmark
PWM514
PWM520
PWM912
PWM916
PWM920
Little Giants Performance
Little Giant Performance Plus
Dryer
Little Giant Performance Plus
Dishwasher
DW Profiline NG
PFD100
PFD101
PFD102
PFD103
PFD104
Washer-Disinfector
Laboratory Glasswasher (Coming Soon)
*
Diese Geräte benötigen ein externes Modul.
Sie haben noch keine unterstützte Geräte? Besuchen Sie die Miele Professional Service für weitere Informationen.
Always up-to-date
With Miele MOVE you will be directly informed about all new firmware updates and will be able take a look into the release notes to see what's new and changed. You can easily manage to update your entire device fleet's firmware with our build-in update center.
With Miele MOVE you will never miss any new device firmware features in the future.

Automated documentation
Miele MOVE monitors the performance data of connected Miele Professional appliances and provides valuable information on downtimes, workload and vacancy. This gives you an overview of all main informations and enables you to better anticipate future capacities.
The Miele Portal stores process data from executed programs and visually prepares operating data via easy-to-understand process curves – live and historical. This allows you to view all procedures, assists you in complying with hygiene requirements and provides long-term evidence that programs have been successfully completed.
With just one click, you can download your program data as a PDF or Excel file for further use in your own documentation.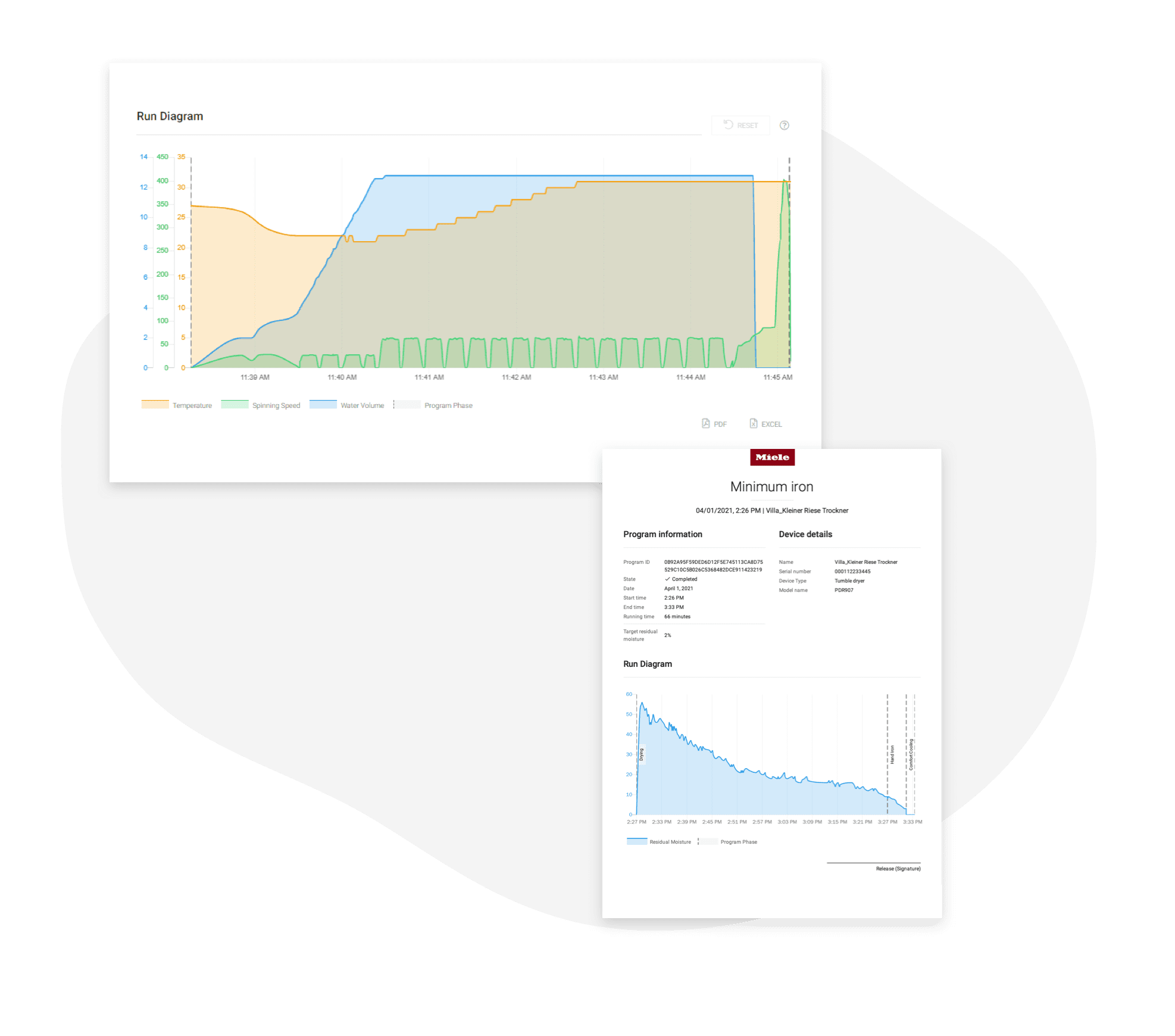 Handle errors quickly
Miele MOVE automatically informs users when an error occures. Forward detailed error messages directly via the Miele Portal to service partner support.
Therefore Service personnel immediately have all relevant appliance information at hand and can initiate maintenance or repair processes more quickly.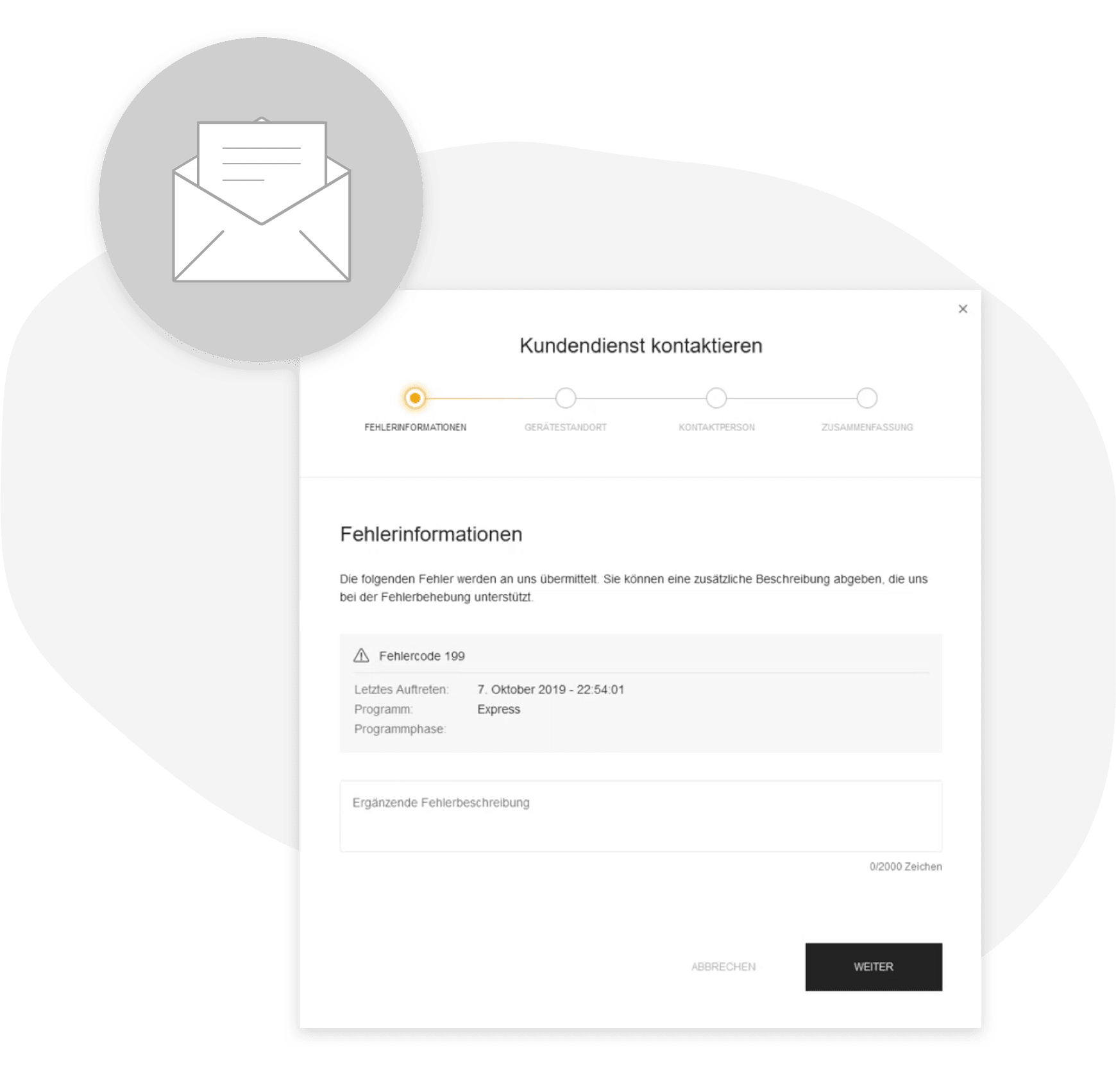 Individual access
Settings, appliance names and different user roles can be customized to individual employees, and requirements. This allows your team to maintain an overview, independently retrieve relevant data, and ensure that all employees receive the appropriate information.
Miele MOVE let's you assign different user roles so that all company's employees can focus on the functions that are most relevant to them in their workflow. You can choose between the roles User, Engineer and Administrator accordingly.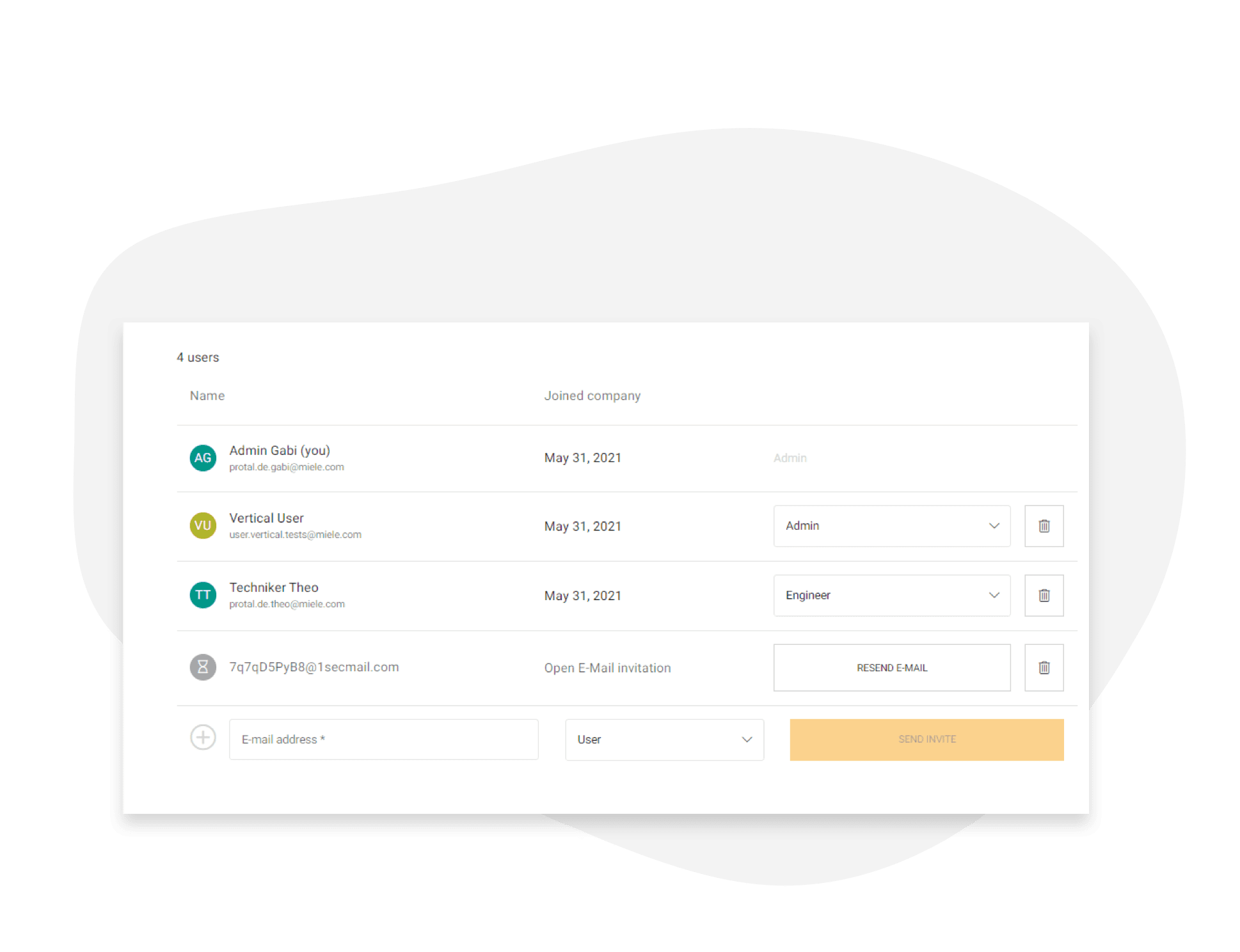 Engineer
As an engineer of a company you can access all features a user can access. Additionally you can manage appliances: You are able to connect new appliances, rename, configure and delete them.

User
As a user of a company you can view the status of all connected appliances, access data and history. You can get notifications, use the dashboard and contact customer support.

Admin
As an administrator of a company you can access all features a user and engineer can access. Additionally you have the rights to manage your company's account and users: You can edit company data, upgrade or downgrade your current subscription plan and invite users, delete users or change roles.
Efficient self-help
The Miele Portal is directly connected to Miele Professional Customer Support. If appliance information is forwarded to them, the service team can quickly view all relevant information and, for example, bring along suitable spare parts straight away. This saves time, effort and unnecessary journeys.
Our Customer Support will be happy to help you personally but you also have a quick access yourself to user manuals and assembly instructions in our Service & Support area.